Faces of My Followers
These are the faces of my followers
http://awkwardkidinthecorner.tumblr.com/

 
"Hey! I'm Maeve, the one with the brown hair in the pichha. I'm 18, a freshman sociology major and psychoanalysis minor at Colorado College, and I'm in love with a sailor! I like Doctor Who and Buffy and the like and social justice and helping people and I'm kind of a weirdo so feel free to talk to me whenever!" 
http://tragicbeautyx3.tumblr.com/

 
"My name is Mychaela and i'm dating a soldier named Benjamin.We started talking in May of 2008 and there was no denying we were in love instantly. On October 11,2008 ask me out and I said yes! In 2010, We went through our first Deployment.It sucks really bad but has made us grow as a couple.We can go through anything! In February 2011, He came home and as I am finishing up school, he is going back. I can't wait to see where life takes us =)" 
http://getsomeribboninya.tumblr.com/

 
"Hi! My name is Francesca and I'm 22 and from Pittsburgh. I was a hairstylist now I'm in college to become a nurse, but it's a very complicated process and I'm starting to feel as though my purpose right now isn't college. Later it will be though haha. I love animals and nature, I'm rough around the edges in a lot of ways, and I'm in love with a wonderful man named Tyler who happens to be a US Soldier! He's the best! :)"  
http://asiansweetheart15.tumblr.com/

 
"This is my fiance and i. I'm Tiffany and he's Garret. We've been together for 6 months going strong. He's in the USMC about to be out and im in the process of enlisting in the US Army myself hopefully i'll be going to basic this fall or winter. Ready for our adventure together <3" 
http://kissesandcombatboots.tumblr.com/

 
"Hey guys!! My name's Samantha, and that's my husband&best friend Rick :)  He's in the Air Force!  We are both 21 and got married last December 2011. We're stationed in California now and are originally from Detroit MI.  I'm finishing up university now, and I also work as a dog caretaker at a boarding kennel…it is so fun!  That's our dog Sheba in the picture too, she's a blue pom :)  She's our baby!!!  I would love to know all of you, and love finding new friends to follow, so feel free to come on by and say hi <3" 
http://thelongerthewaiting.tumblr.com/

 
"Hey, I'm Jenelle! I'm very fun, enthusiastic, and open. Me and my Canadian Sailor met a year ago, and moved in together three months later! It's been a wild ride, but I wouldn't change it for the world. He is the love of my life! :)" 
http://punkypunk.tumblr.com/

 
"Hai! I'm Katie, 21, senior at FGCU in Florida, set to graduate this Spring. I started dating William October 14th, 2010 and he graduated from USCG boot July 29th, 2011. He's stationed in a 210 cutter outta Cape May so there's not a lot of time we get to spend together since he's out to sea 6 months out of the year.
I love to read, write, watch movies and YouTube videos, cook, bake and sleep. I'm obsessed with the Cooking Channel, Food Network and Animal Planet, so if you catch me watching TV, that's the channel I'm most likely watching. I love horseback riding, white water rafting, and I've recently gotten into archery.
The photo I used is us most recently at a fellow Coastie's wedding. =)" 
http://foreveryoursduckie.tumblr.com/

 
"Hey, my name is Wendy. I'm 20 years old and i'm attending college right now majoring in Biology to go to PA school. This is a picture of my boyfriend Sam and I :) we have been dating for 8months <3 we met my first year of college through a mutual friend while he was back home from training. We are going through our first deployment right now which sucks -_- but we are dealing with it pretty well.. I love that we have this support system going on because most people don't understand how hard it is sometimes, so if anyone of you ladies need any advice or just someone to talk to i'm here :)" 
http://inlovewithmysoldier.tumblr.com/

 
"Hi my Name is Candace. I just married my sweetheart Kody in March and I am still new to the whole military wife life. He is currently deployed and I would like to meet new people that have the same things in common with me."  
http://thisismyhouse-thisismyhome.tumblr.com/

 
"I'm Haylie. I'm 20 years old. My husband, Chase, is in the Army and has been for almost 3 years. We were high school sweethearts and have been together since September 2006 and married since July 2010. We've been through a deployment to Iraq in 2009-2010. We live in Kansas but are from small towns in central Oklahoma. I love football, basketball, photography, talking, One Tree Hill, tattoos and peace signs. I love meeting new people, so feel free to talk to me! :)"
http://wearebiggerthanthis.tumblr.com/

 
"Hi, I'm Sara and this is the love of my life Brian. We were together for fifteen months. Twelve of those fifteen months were spent apart while he went through Basic in Oklahomama, AIT in Texas, stationed in New York and then Deployed in Afghanistan. I love him with my entire heart and can hardly stand not being with him. We had a whirlwind romance that was written just like a Nicholas Sparks novel, even down to the disappointing parents,forbidden love and his child from a previous relationship. Our Army romance does not have an ending that is very happy though. On June 18th Brian was killed in Afghanistan. While all of the other Milso's are in long distance relationships with their men awaiting their return, Brian and I are in a different kind of long distance relationship. He is awaiting my arrival in heaven, while I am deployed on Earth. 
We are surviving our second and last deployment. 
and I love him to the stars and back just like I always have :)" 
http://you-makemefeel-alive.tumblr.com/

 
"Hi I'm Ellen and this is Andrew. I'm 19 and he is 20. He is in the Army currently going through AIT. We have been together for about 8 months and are planning on getting married near the end of July beginning of August. He is the best thing that has ever happened to me and I don't know what I would do with out him. I'm really easy to talk to and am here for anyone who just needs someone to listen. :)" 
http://je-vous-attendrai.tumblr.com/

 
"I'm Kelly! I live in Phoenix, AZ and am about to move to San Diego for college to double major in biochemistry and psychology. I've been a competitive rock climber for the past seven years; the sport has been my entire life! I've been with my boyfriend Matt for a year and a half. He's a U.S. Marine stationed at Camp Pendleton, and we plan on moving in together in about a year! 
Talk to me anytime :)" 
http://bostongirlatheart.tumblr.com/

 
"Hi! My name is Becca and I am currently 19 years old. I just finished my first year of college, although I still have no idea what my future holds. I have been dating my boyfriend, Jake, since September 6, 2010. We've been through a lot together, but our relationship is going to evolve even more now. I am new to the MilSO scene; Jake only just went to boot camp in April. If you noticed the number in the upper right hand corner of my picture, it's there because I wanted to take a picture for every day that Jake is at boot camp so that he won't miss a thing while he's gone. Soon I'll see him again, and we will have to begin our long distance relationship all over again. Distance is tough, but we have faith we'll make it through." 
http://lexielizabethbradley.tumblr.com/

 
"So hi, I'm Lexi. I'm 17 years young, and live in Florida. I'm a theater geek, love acting, and will watch Tim Burton films till the day I die. Also, I love music, especially Rise Against and A Day To Remember, which was also the most amazing concert I've ever seen ever. So, yeah, hi!"
http://whatcolouristhesky.tumblr.com/

"Hello! This is me, and my boyfriend (Lantz). He's in the Marine Corps and I'm about to graduate high school, he's 19 and I'm 18. We're both young but we're goofy, sweet, sarcastic, outgoing losers. We've been together for over a year now :) 
So, if you want to follow a really awkwardly in love girl who's freaking out because she's graduating and just likes to post a lot follow me ;)" 
http://darrkstarrx.tumblr.com/

 
"Hi! I'm Nina. I'm 22 and currently split my time between Norway and Pa. My SO is in Norway's Special Forces. We've been dating for two years now, but have known each other for five. It's been a crazy journey. I'm about to graduate with my BA in Psychology and ride/compete/work with horses. I am always available to talk if anyone ever needs someone and would love to meet other Foreign Milsos!" 
http://suplauraann.tumblr.com/

 
"My name is Laura. I am 20 years old and live in Illinois. I go to a Christian College near Dallas TX. I am majoring in elementary education and minoring in music. My boyfriend Chris and I have been dating for a little over two years. He is in the Air Force." 
http://chloboatsailing.tumblr.com/

"Hi I'm Chloe and this is my husband Michael. We've known each other since we were 13 and it's been such a crazy journey; I didn't think I'd ever get married but he certainly changed my mind. We got together after high school in 2009, and he joined at the end of 2010 and left for bootcamp the following April.
I never thought I'd be a military spouse ever ever ever and it's still so strange for me living in a new town after moving away from Arizona. I'm in Oklahoma now and we're going on six months being married and three years together next month.
My blog is not your average army wife blog but don't be afraid to say hi! I'd love to give advice or answer questions." 
"Hi guys! My name is An, and I'm a 20 (almost 21 ((May 23!))) year old college student who pays her way through school by working as a Starbucks barista >.< My boyfriend is Duane. He was in the Army for a year until he got into some trouble with the law, and is serving time in prison. By the time he gets out, we would have been apart for 2 years. I support the military 100% and my close friends here on tumblr are all MilSo's. I'm not one myself, but I know how hard it is to be away from someone you love.
(Note: Don't you dare judge him because of his situation. Know the story first)" 
http://foreverbehindmymarine.tumblr.com/


"So this is my fiance David && I :) I am currently residing in my hometown in Virginia about to graduate from high school && he is currently stationed at Camp Pendleton. Him && I are both 18 years young :) We've been together for 8 months && 11 days, engaged for 5 months on the 20th of May :D Him && I have been through some MAJOR things, but we've always been there for each other. Feel free to message me :) I'm here for ANYONEno matter what <3"
"I'm Kindra and I'm 18 years old. I'm about to go to Army basic training and be active duty. I plan on making a career of it, and possibly going officer, but in the meantime I'm just going to see how I like it and go from there. While I'm in I also plan on getting my PhD in Cultural Anthropology to eventually do fieldwork and then teach at a university. I'm also dating Kyle who's also a Marine. He's currently stationed over in Japan, and I can't wait to see him again. 
I love to meet new people so feel free to chat me up anytime!"
http://godblessgig-emandhooah.tumblr.com/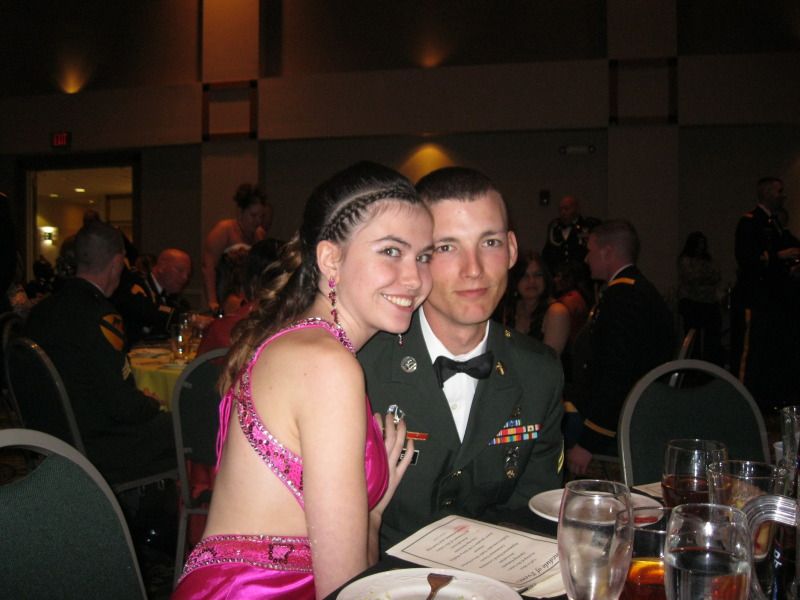 "Howdy! My name is Toni, I'm 19 (almost 20, one month to go!) years old, a sophomore Journalism/Comm major studying at Central Texas College. I hope to go back to Texas A&M University in a couple of years to get my bachelors in Political Science, then another two years at Kilgore College to get my photography certification. I'm in love with Captain America, country music, photography, and horses. The handsome man in the picture is my husband, hero, and best friend, Corporal Jack Cornwell. He's a 19D Cavalry Scout in the United States Army, and we're stationed at Fort Hood, Texas. We've been together since November 2009, right after he started his second tour of duty defending our nation in Operation Iraqi Freedom, and we got married on May 3rd, 2011. (:" 
http://southern-livin.tumblr.com/

"Hi! My name's Kristen. I'm 21 years old. My husband, Jordan, happens to be a Marine; and we're stationed at Camp Lejeune. We've been married since April 9, 2012; however, we've been dating since March 22, 2004 (7th grade!) - so we're middle school sweethearts. I'm a college student who's majoring in business marketing, and I plan on doing something in sports marketing one day; because I'm a huge lover of sports (mainly football). After an inspiring internship with the Senior Bowl, I decided I couldn't possibly do anything else in life!
I always love talking to people, so feel free to talk to me :)"
http://lovepassion831.tumblr.com/

"hey this is my best friend and boyfriend Rod and I. He is a hospital corpsman for the US Navy. He and I have been together since ninth grade and are still going strong. I am a junior at North Carolina A&T State University in Greensboro, NC studying psychology. I want to work with the development of children with military families. In the last year my boyfriend has been to Chicago (IL), San Antonio (TX), Jacksonville (NC), and is now in Rhode Island. He may not be deployedoverseasbut due to our commitment to my education and his career, we don't see each other much. I am always here to talk. We have been through a lot but I love him to death and wouldn't be where I am without him. 
Feel free to come talk to me!"  
http://rachel-diaries.tumblr.com/ 


"My name is Rachel and I'm a 23-year-old trying to find my place in the world. I'm keeping the balance between having my own goals and aspirations while living the military lifestyle right by the side of my husband."
http://bigworld-littlesteeny.tumblr.com/


"Hello! My name is Kristina, and I am in love with my Army Cryptologic Linguist. We love anything revolving around the World War 2 era, and love to swing dance. He is my Marty McFly, my boyfriend, and my best friend and I miss him every day."
http://m00kenna.tumblr.com/


"My name is McKenna, and the man beside me is my better half, Josh. :) He's currently in the United States' Army. We're scheduled to get married in June of 2013, and I couldn't be happier. :)" 
http://forever-and-always-my-airman.tumblr.com/


"This is me, Erica and my handsome fiancé, Eric. We have been together 4 1/2 years today, and have been engaged for 3 months. He just graduated from Air Force BMT this past weekend and I can't even explain how proud I am :) We will be getting married within the next several months, and I couldn't be happier :) <3 I love you Eric <3" 
http://hollymarielove.tumblr.com/


"Hey I'm Holly! This is Scott and I at his basic trainging graduation! We have been dating for over a year and he is currently stationed in Colorado, well I am stuck in our hometown in Michigan. We met my freshman year when he was dating my friend Amy. They broke up after a couple months and during my sophomore year, when he was a senior, we started talking again and we havent stopped talking since! I will be senior this year and hopefully he'll be here for my senior prom! :)
We're only dating, for now. ;) <3" 
http://airforcetwo.tumblr.com/ http://her-airman.tumblr.com/
"I'm Rebecca and this is my best friend and fiance, Nick. He is in the NJ Air National Guard. We met in May of 2011 at the local air show and I knew right away that he was going to be someone special in my life. We are perfect for each other and I can trust him with my life. We can be silly and joke around but when we need to be serious, we are. We may be very young but we're both very mature for our age. I love him with all of my heart. We got engaged May 8th, 2012. It was a complete surprise to me because I thought he wasn't coming for another 2 weeks. It was perfect though. He proposed at the Air Museum at the Airport where we met. I couldn't imagine a better life than the one I'm living with him. I'm leaving for basic training for the NJ Air National Guard and will be back in the summer of 2013. We're both enlisted and in love. I really couldn't ask for anything better."
This is a blog for everyone and anyone that is patiently waiting for their loved one to return to them. Whether you're dealing with a deployment, boot camp, or simply waiting for them to finish their contract with the military I am here to provide support for you. Finding other people that can relate to you isn't all that easy. Not many understand the hardships that come with loving someone in the military. I hope that this blog provides a way for you to network with other people with loved ones in the military, whether it be significant others, family members, or friends of military members we can all use a little support now and then. Having family members in just about every branch, and countless friends in the military I have had my fair share of military experience. I will do my best to utilize my knowledge of the military to help anyone that asks for it. I am always open to talk about anything military or not. Thank you for following my blog. Keep pushing forward; you are stronger than you think.